Van Haaster is in the bulb industry area, especially in the neighborhood of de Zilk, a very familiar name. The founder of the company, J.P.A. van Haaster, started with his brother the business in the early fifties with mainly dairy, bulbs and a few horses. Years later, the company was now led by two of his sons, they decided to split up. Both sons had children who were interested in leading the companies so the split up was a great decision.  One of the sons, also called J.P.A. van Haaster, founded his new business in the Haarlemmermeerpolder. He made the decision to give all attention to the flower bulb cultivation. The next generation Van Haaster sons took over the company in the early nineties.

 Current situation
Van Haaster Vijfhuizen is now owned by Rob en Jacques van Haaster. They expanded the business since the relocation to the Haarlemmermeer, The Netherlands, to a flower bulb company of approximately 65 acres, mostly all on sand in the Haarlemmermeer.
During the winter approximately 4 million cut flowers (hyacinths) are scalded.  About the method we would like to refer to this page. The cut flowers (hyacinths) are sold at Flora Holland at Aalsmeer.At the company there are two permanent employees present. Besides that there's a group of students who work during the holidays and Saturdays. During the seasonal busy periods some additional workforce often come in through specialized agencies.
Labor
We have six permanent workers at our company. Additionally we have a group of students who helps during the holidays and Saturdays. During the busy periods in the main season there is also extra labour been used. Often enters through an external agency.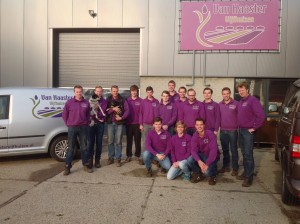 Rob

Planning, Sales. Administration and Personnel

Jacques

Mechanism, Maintenance and Land activities

Gijsbert

Transport and Land activities

Arnold

Quality controller and Inside activities

Marco

Assistant Inside activities
Location
Van Haaster Vijfhuizen is located at the Spieringweg in Vijfhuizen, The Netherlands. The company is located somewhere between the two largest markets: the flower auction at Aalsmeer  (for the cut flower industry) and the bulb area (Bollenstreek) for the flowerbulbs.
Crops
The company only grows flower bulbs. This concerns the following crops:
Hyacinths
Tulips
Daffodils
Crocusses
We offer a wide range of cultivars. We choose for these crops to keep a healthy product, what is important for the soil and keeps the bulbs healthy. Besides that there is an agreement with a neighbour who grows Dahlia's to swap land for good crop rotation 1:5. Click here for Hyacinths, Tulips, Daffodils and Crocusses. Furthermore we refer you to our photopresentation.